I developed the Low Carb Cheesy Ham Casserole recipe because I've got a fella who is wild about casseroles. He really, really, really wanted a casserole. I want to make him happy and now you get to share in the results. 🙂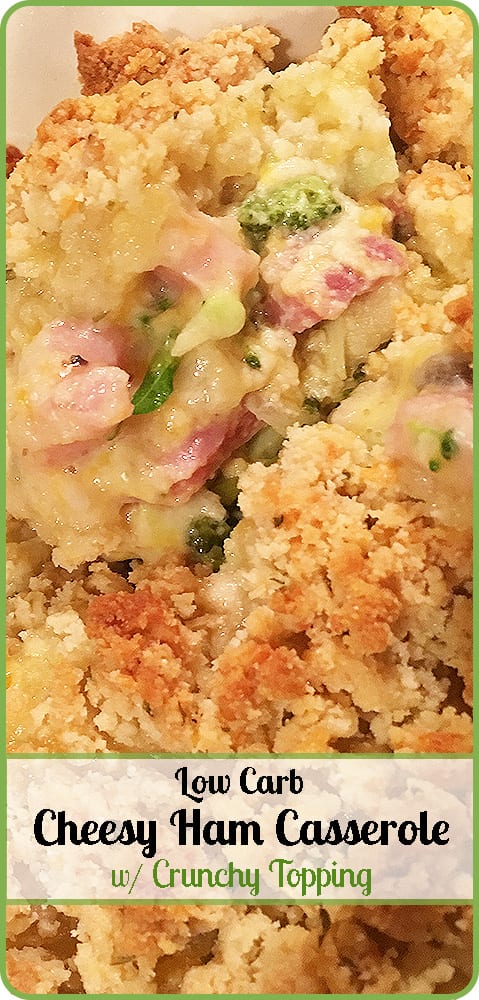 This Cheesy Ham Casserole was inspired by a broccoli and rice or broccoli and stuffing side dish. It's traditionally served in wintertime.
Casseroles are a winter staple at my house. But truthfully, my husband is thrilled when I make this no matter what time of year it is.
In this recipe there's no rice or stuffing. There are other veggies besides broccoli and oh yeah, there's ham….well I did say 'inspired'.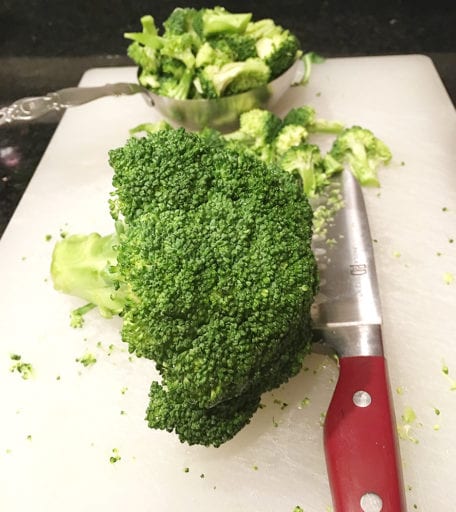 How I made the Low Carb Cheesy Ham Casserole
I included 3 cups of chopped fresh broccoli in the recipe. I have to say the that this bright green vegetable was a welcome sight after so much (too much) holiday fare.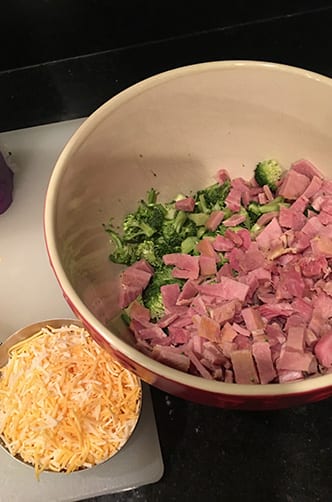 To the ingredients pictured above, I also added 1/2 of a finely chopped onion and 1 cup fresh sliced mushrooms.
The Sauce
At this point I made the sauce to pour over and mix with the veggies, cheese and meat.
I decided to make a simple sauce that is a kissing cousin to one I use over Chicken Cordon Bleu. It's simply made of cream of mushroom soup, sour cream and eggs.
I had to laugh when I saw my ingredients pool into a 'yin yang' design.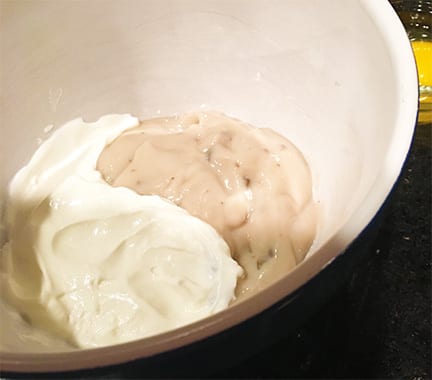 I was once told that among other things, that the symbol meant both opportunity and danger. That's what making this dish felt like because all I had at this point were high hopes that it would be good.
Oh, and if you don't want to use canned soup try this recipe at food.com as a gluten-free replacement. You will need 1 1/2 cups.
The Crunchy Topping
I tossed together the topping ingredients in a small bowl. I added a pinch of coarse ground sea salt and about 1/4 tsp. chopped dry parsley and crossed my fingers hoping for a cheese cracker-like result.
Alternatively, you can make this dish using chicken. Replace the parsley in the topping with poultry seasoning to as to be reminiscent of stuffing flavor.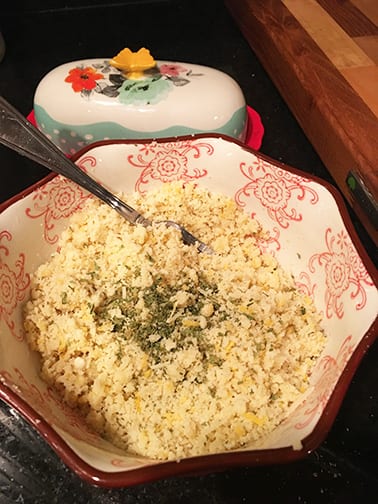 I added the sauce mixture to the veggie-meat mixture and poured it all into a prepared pan that would hold at least 10 cups. I began to sprinkle the crunchy topping dough over the top until…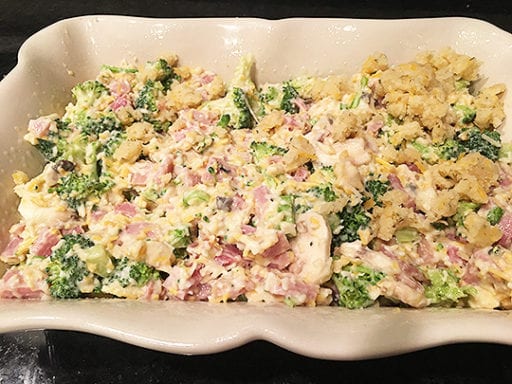 …it was completely covered and ready for the oven.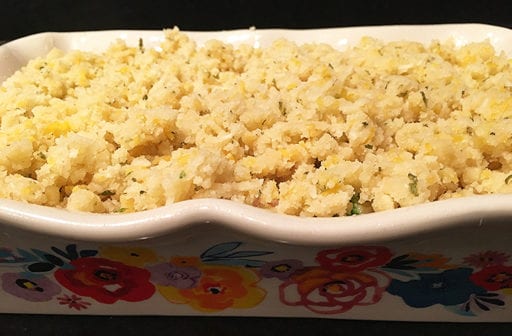 The savory scent of the casserole wafted through the house as it baked. As a result of this my husband wandered through the kitchen once or twice to check on the progress.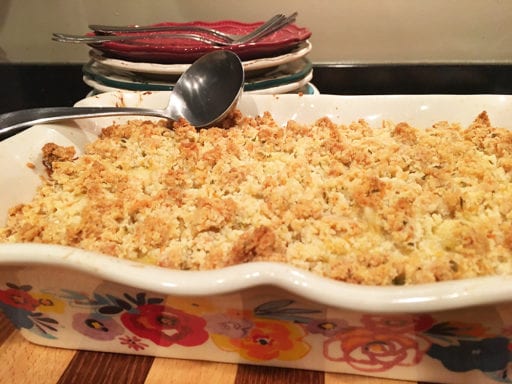 I was concerned about the topping as I wanted it perfectly golden brown and no more. Forty-five minutes did the trick perfectly.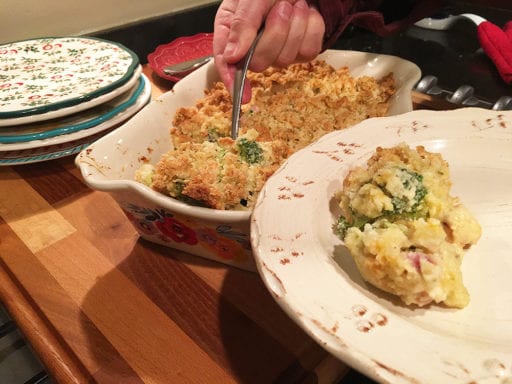 As you can see my husband was happy to be my 'hand model' as he ladled the Low Carb Cheesy Ham casserole onto his plate.
He absolutely loved it and approved the recipe for sharing with the world. :). He was amazed to hear that it was only 10 total carbs or 7 net carbs a serving. Enjoy! — Laura
Nutrition info For Low Carb Cheesy Ham Casserole: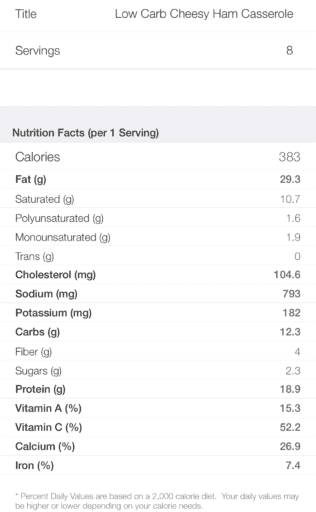 Recipe for Cheesy Ham Casserole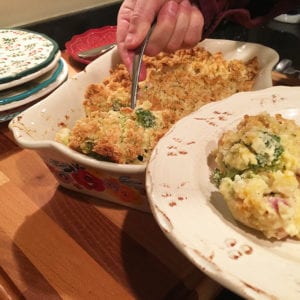 Low Carb Cheesy Ham Casserole
Toss it together and allow the savory scent of this Low Carb Cheesy Ham Casserole fill your kitchen. The family will ask for seconds and never know that it's 'low carb'.
Total Time
1
hour
5
minutes
Ingredients
Vegetable / Ham Mixture:

3

cups

chopped broccoli

2

Cups

Ham Cubes

1/2

medium onion

, chopped

1

cup

mushrooms

, sliced

1

cup

Colby Jack cheese

, shredded

.

Sauce Mixture:

1/2

cup

Sour Cream

12

fl. oz Cream of Mushroom Soup

(canned condensed or homemade replacement)

2

Large Eggs

.

Crunchy Topping:

1 1/2

cup

Almond flour

1/2

cup

Colby Jack cheese

, shredded

4

Tbsp

Parmesan cheese

, grated

1/4

tsp

dried Parsley

pinch Sea Salt

3

Tbsp

Butter

, melted

1-2

Tbsps

Water
Instructions
Heat oven to 350 degrees. Spray a 2 1/2 quart casserole bowl or pan with non-stick spray.

Mix vegetables, meat and 1 cup shredded cheese in large mixing bowl.

Stir together cream of mushroom soup, sour cream and eggs till smooth and combined in a small mixing bowl.

Pour sauce over vegetable/meat mixture and stir to coat.

Spoon sauce-coated vegetables, ham and cheese into prepared baking pan or bowl.

In a small mixing bowl stir together dry ingredients for Crunchy Topping.

Stir butter in with a fork. Mixture should be crumbly and and slightly damp and cling in small clumps of dough, but not wet. Add up to 2 Tbsps of water a little at a time if mixture is too dry and flour-like.

Evenly sprinkle topping over the prepared casserole mixture.
Recipe Notes
Nutritional Facts
Calories: 383
Carbohydrates: 2.3
Fat: 29.3
protein:18.9
Fiber: 4
Chicken is also an excellent meat for this casserole. Replace the colby jack with mozzarella or swiss and replace the chopped parsley in the topping with poultry seasoning for a stuffing-like taste. So yum.
Thank You!